The global impact of lung cancer is staggering. Lung cancer is among the most common and deadliest cancers worldwide. According to the World Health Organization, in 2018, there were an estimated 2.09 million cases of lung cancer globally and about 1.76 million deaths from the disease.1 In the United States, lung cancer, both small cell and non-small cell, is the second most common cancer affecting both men and women, with more than 228,000 new cases expected in 2019. In addition, nearly 143,000 individuals will die from their disease, making lung cancer the leading cause of cancer death, far surpassing deaths from colon, breast, and prostate cancers combined.2
The vast majority, about 85%, of all lung cancer diagnoses are non-small cell lung cancer (NSCLC).
The vast majority, about 85%, of all lung cancer diagnoses are non-small cell lung cancer (NSCLC), and about one-third of these patients will have Stage III disease.3 Generally, unresectable Stage III NSCLC encompasses a heterogeneous group of tumors defined as having spread locoregionally through the primary lung structures into the hilar or mediastinal lymph nodes, but with no clinical evidence of distant spreading.4 Recommended treatment in this setting is definitive concurrent chemotherapy and radiation therapy.5
Unresectable Stage III NSCLC is a curative intent setting.4,6-8 "In patients with locally advanced NSCLC, concurrent administration of chemotherapy and radiation can be a cure for about one-fifth of the patients. Advances in the techniques for delivery of radiation and advances in supportive care are allowing more patients to complete concurrent chemoradiation with minimal treatment interruptions from toxicity. This is definitely curative intent treatment," said Vamsidhar Velcheti, MD, Director of Thoracic Medical Oncology at the Perlmutter Cancer Center, NYU Langone Health in New York City. "In addition to these advances, the biggest progress in treatment for locally advanced NSCLC that has been made over the last decade is in the development of incorporating immunotherapy with concurrent chemoradiation."
The Importance of Accurate Staging in Disease Prognosis and Treatment Selection
Advanced NSCLC is a group of diseases (due to molecular heterogeneity) with many oncogenic drivers and includes a highly heterogeneous group of patients. To ascertain effective treatment strategies and optimize outcomes for these patients, accurate staging of the cancer is essential, according to Dr Velcheti.
Staging is what determines the best treatment approach for patients with NSCLC.

Vamsidhar Velcheti, MD
"Staging is what determines the best treatment approach for patients with NSCLC. For patients with limited disease in the chest that might have spread to the lymph nodes, it is absolutely critical to understand which lymph nodes are involved to accurately stage the cancer and make a determination on the best treatment options for an individual patient," said Dr Velcheti. The TNM (tumor, node, metastasis) tumor staging system, which describes the size and extent of the primary tumor, the number and location of involved regional lymph nodes, and the presence and location of any metastatic disease, is used to stage NSCLC. Historically, Stage III lung cancer has been defined as locoregionally advanced disease through primary tumor extension (T3 or T4) or mediastinal lymph node involvement (N2 or N3), and no evidence of distant metastasis.9 According to recent revisions to the American Joint Committee on Cancer Staging Guidelines, which utilize both clinical and pathological staging, patients are now classified into refined subgroups based on tumor size, nodal disease prognostic impact, and extent of metastases based on data analysis from the International Association for the Study of Lung Cancer.10
Staging Non-Small Cell Lung Cancer
Historically, Stage III lung cancer has been defined as locoregionally advanced disease through primary tumor extension (T3 or T4) or mediastinal lymph node involvement (N2 or N3), and no evidence of distant metastasis. Revisions to the Joint Committee on Cancer Staging Guidelines now classify patients into refined subgroups based on tumor size, nodal disease prognostic impact, and extent of metastases.1,2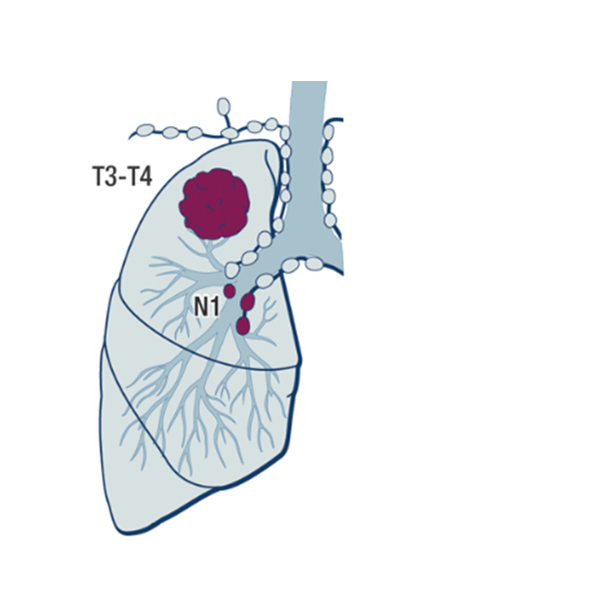 N1 nodes are typically resectable3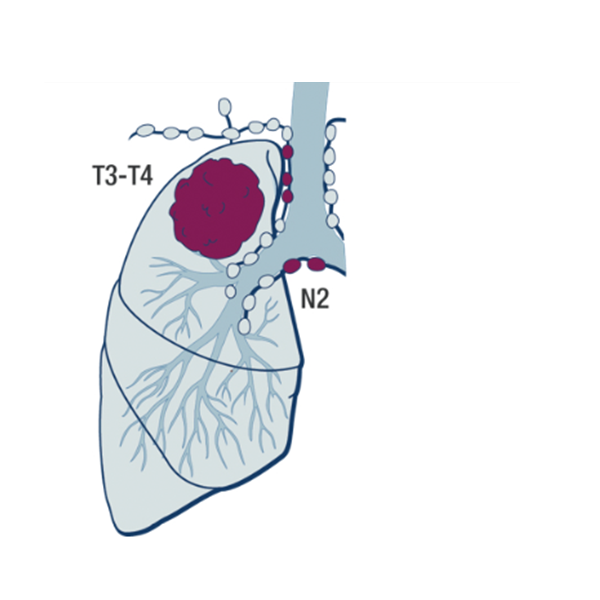 N2 disease should take into consideration if:4,5
Nodes are bulky
Tumors have spread beyond the nodal capsule
There is multistation nodal disease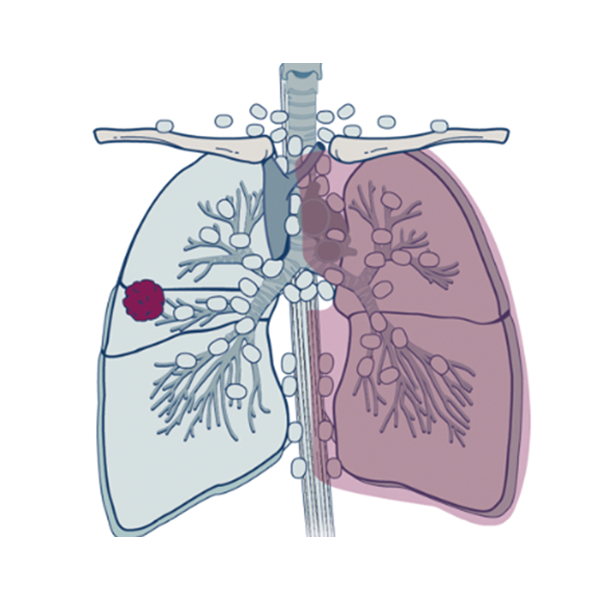 N3 nodes generally predict unresectable disease5
All positive nodes contralateral to the primary tumor are staged as N32
References
Santana-Davila R, Martins R: Treatment of stage IIIA non-small-cell lung cancer: a concise review for the practicing oncologist. J Oncol Pract 12:601-606, 2016.
Rami-Porta R, Asamura H, Travis WD, et al: Lung cancer—major changes in the American Joint Committee on Cancer eighth edition cancer staging manual. CA Cancer J Clin 67:138-155, 2017.
Schild SE, Ramalingam SS, Valliéres E: Management of stage III non-small lung cancer. UpToDate. https://www.uptodate.com/contents/management-of-stage-iii-non-small-cell-lung-cancer. Accessed October 1, 2019.
Martins RG, D'Amico TA, Loo BW, et al: The management of patients with stage IIIA non-small cell lung cancer with N2 mediastinal node involvement. J Natl Compr Canc Netw. 10(5):599-613, 2012.
Quint LE. Lung cancer: assessing resectability. Cancer Imaging. 4, 15-18, 2003.
Advancements in Radiation Therapy Are Improving Overall Survival
Prior to concurrent CRT, the standard treatment for unresectable Stage III NSCLC has been sequential chemotherapy followed by thoracic radiotherapy, improvements in radiation delivery, such as intensity-modulated radiation therapy, have made treatment safer and less toxic for patients.11-13 As a result, today, multimodality therapy that includes the concurrent use of radiation therapy, which provides local therapy for inoperable tumors, and chemotherapy, which reduces or prevents the micrometastatic spread of lung cancer and acts as a radiosensitizer to increase the efficacy of radiation therapy, has been shown to improve overall survival and is the standard treatment in this setting.14
While dose escalation with conventional radiation therapy has not proven to improve treatment outcomes, the use of alternative fractionation, particularly accelerated hypofractionation, which delivers a higher dose per fraction compared to conventional fractionation schedules, may prove beneficial in this treatment setting.14 Intensity-modulated radiation therapy, which allows high-dose radiation with less toxicity, and the use of concurrent proton radiotherapy and chemotherapy may offer patients better survival outcomes and fewer side effects than conventional radiation therapy.15
Managing Patients' Symptoms
Locally advanced unresectable Stage III NSCLC is a debilitating disease that often confers a high burden of symptoms on patients, both physical and emotional, including pain in the chest, dyspnea, coughing, and weight loss, as well as psychosocial distress, such as anxiety and depression.16 Treatment for the cancer often compounds patients' physical and emotional suffering.17-19 Evaluating patients at the time of diagnosis to precisely stage their disease, determine their most effective treatment options, and provide supportive care throughout survivorship requires a multidisciplinary team of specialists, including a medical oncologist, radiation oncologist, pulmonologist, advanced practitioner, and supportive care physician, as well as a social worker and nutritionist.5
"It really takes a village to treat patients with lung cancer," said Dr Velcheti. "The management of patients with cancer is becoming increasingly complex and more nuanced, and we really need to engage multiple specialists to provide these patients with the best care, especially now as the major cancer centers become more and more disease focused."
To provide patients with high-quality oncology care and manage symptoms from their cancer and treatment-related side effects, physicians have to personalize patients' care, according to Dr Velcheti. "The side effects that patients experience from radiation, for example, may be very different from patient to patient, with some tolerating it very well and others having a really difficult time. What is absolutely critical in managing care for these patients during treatment—and afterward—is to recognize problems early and provide interventions early to relieve symptoms," said Dr Velcheti.
Supportive care, which focuses on improving the quality of life for patients through the prevention and relief of suffering, should be initiated concurrently with standard treatment modalities for patients with unresectable Stage III lung cancer, according to Dr Velcheti. In addition to reducing symptom burden, studies show that early supportive care intervention improves both quality of life for patients with advanced lung cancer and their overall survival.20 In response to data from multiple randomized clinical trials showing increased benefits to patients with advanced cancer, in 2018, the American Society of Clinical Oncology updated its clinical practice guideline on palliative care. The guideline now recommends the use of supportive care along with oncology care for patients with cancer and suggests that concurrent care should begin within 8 weeks of diagnosis.21
The Synergistic Effect of Radiation and Immunotherapy in the Treatment of Unresectable Stage III Lung Cancer
While definitive concurrent chemoradiation with curative intent is recommended for patients with unresectable Stage III NSCLC, the discovery that cancer cells can exploit some immune inhibitory receptors, such as programmed death-1 (PD-1) and its ligands PD-L1 and PD-L2, to escape immune surveillance is leading to a dramatic shift in treatment approaches in lung cancer.22,23
Recent data from preclinical and early clinical trials show that priming effector PD-1/PD-L1 immune checkpoints with radiotherapy activates key elements of the immune system that may help to turn the immunosuppressive environment of non-small cell lung cancer into an immunoreactive environment and promote antigen presentation by upregulating major histocompatibility complex class I molecules and tumor-associated antigens, potentially influencing the effectiveness of immunotherapy. Furthermore, radiation therapy provokes immunogenic cell death, activates dendritic cells, promotes chemokines, and reduces the activity of immunosuppressive regulatory T cells, not only improving local tumor control but promoting a systemic antitumor immune reaction on distant metastases as well.24 "Radiotherapy kills rapidly reproducing cells that lyse and release multiple antigens. Those antigens can spark the effect of immunotherapy by offering these antigens to the lymphocytes, so they can be activated against the tumor-related antigens," explained Steven E. Schild, MD, Chair of Radiation Oncology at Mayo Clinic in Phoenix, Arizona.
"Radiation tends to prime the cancer for a response to chemotherapy," said Dr Velcheti.
Increasing Treatment Options With Immunotherapy
In addition to using radiation therapy to prompt an antitumor response, understanding how monoclonal antibodies block PD-L1 and allow activation of the T cells and an antitumor response has led to the investigation of combinations of chemotherapeutics to improve the body's response to immunotherapies and more effectively attack cancer cells. The National Comprehensive Cancer Network® (NCCN®) recently updated the NCCN Clinical Practice Guidelines in Oncology (NCCN Guidelines®), which recommends treatment of Stage III NSCLC based on staging and resectability and suggests that eligible patients with unresectable Stage III NSCLC whose disease has not progressed following concurrent chemoradiation be treated with consolidation immunotherapy (Category 1).5 In April 2019, NCCN also updated the NCCN Guidelines® for the Management of Immunotherapy-Related Toxicities to help oncologists address immune-related adverse events in their patients.25
Providing Patients With New Therapies
The next step, according to Dr Schild, is to investigate the optimal sequence of these therapies in patients with locally advanced Stage III lung cancer. "We need more clinical trials to determine the most effective sequence and combination of treatment," said Dr Schild. Today, along with chemotherapy and radiation, immunotherapy has become the third pillar of treatment in unresectable Stage III NSCLC. "This combination of treatment is now...standard of care for unresectable Stage III patients. Future research will be directed at how best to optimize these combinations and their timing," said Dr Schild.